Weekly Update for March 22, 2019
Happy Spring! That means warmer weather, more rain (and flooding), and more debate at the Iowa Statehouse.
Our hearts go out to communities reeling from the widespread flood devastation. It's a reminder of the power of nature and, unfortunately, of what is becoming a new normal.
Many Nebraska and Iowa farmers are already at a disadvantage because they're close to the financial breaking point. The price tag for this catastrophic record flooding in the Midwest will likely be over $1 billion when agricultural losses are included, according to some experts.
And, things are made worse by the toxic combination of flood waters and factory farms. You've been sending and sharing images that show how this flooding future and factory farms don't mix.
Members in Story Co. have images of flooded fields where a 5,000-head hog factory and manure pit will be built. Some of these fields drain into a creek behind Story County homes and a park.

Members report calling the Iowa DNR with concerns about overflowing manure lagoons and manure that was spread on frozen ground. They hear that it could be days before they get a response, because overwhelmed and understaffed DNR agents are already out in the field investigating overflows.
Before the flooding hit, we reported that the DNR issued 110 "emergency exemptions" this winter, allowing factory farms to dump untreated liquid manure and raw feces on to snow covered ground in the past three months. Now that the snow has melted, that's even more factory farm waste draining into rivers, lakes, and streams across the state.
It doesn't have to be this way. We can act on climate now, and be fully ready to handle the climate chaos that threatens our people and our planet. We've been saying for years that we need our DNR and our elected officials to do more. The time for action is now.
Legislative Action and Updates
Congratulations to CCI member Eric Giddens!
First off, we're excited to have one more ally in office! A big CCI Action shout out to Cedar Falls member Eric Giddens, who just won a special election for Iowa's Senate District 30. He won by a whopping 2,000 vote margin, in an election meant to disenfranchise the student population in the area. A huge thank you to everyone who door knocked and made calls to help make this happen!
Take action for clean energy, healthcare, food, and public lands
The Iowa Senate was the center of our focus this week as they passed several bad bills over to the House. On largely party line votes they passed bills that:



Make it harder to implement conservation practices with public lands (Senate File 548).

We do have a fighting chance in the House, where massive public support could peel off enough Republican votes to stop these bad bills. So use the links above to contact your legislators!

We also heard a rumor that the Iowa Water and Land Legacy sales tax increase could be in play, with a push to alter the funding formula to move even more public money to Farm Bureau backed projects instead of our parks and natural resources the trust was designed to support. We'll let you know the second we see action on this.

And we're still tracking bills to suppress voters – especially young voters – and a bill to politicize Iowa's judicial nominating process. The second funnel is two weeks away, so action on these issues could be coming quick. Thanks for hanging in there with us. We'll let you know when your call can help us have a big impact. Read on for more on these issues you can raise at weekend forumsnear you today and tomorrow!
News and Updates
Student #ClimateStrike fills the room at the Iowa Statehouse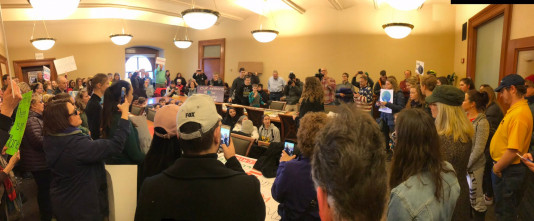 A week ago, hundreds of thousands, or perhaps millions, of students in at least 112 countries walked out class for the largest youth climate action in history. Youth movements across the country are joining together to deliver a message loud and clear to our political leaders: it's time you start taking our generation's survival seriously.

Global politics is changing because young people stepped up to organize these climate strikes at their schools. We're taking part in the Road to the Green New Deal event on April 22 in Des Moines to keep up the momentum this spring.

Reserve your tickets for the Des Moines event on April 22, 2019.

We're in a special moment. Young people have catapulted climate change to a top issue in American politics. We have an opening unlike anything we've seen in our lifetimes.

The Road to the Green New Deal 
Monday, April 22 (Earth Day!) at 7 PM 
Sheslow Auditorium on the Drake University Campus 
2500 University Avenue
Des Moines

RSVP now – Speakers will be announced soon and you will be the first to know when tickets go on sale
A look at our Presidential endorsement process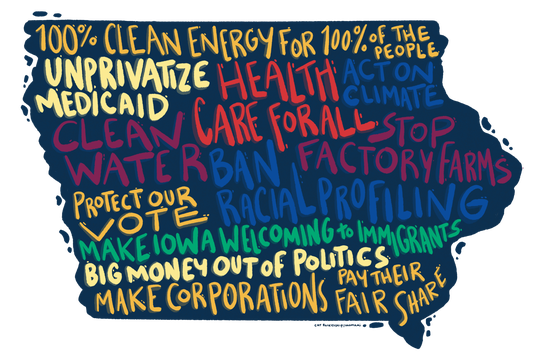 You may've seen CCI's name in the news with recent reports that Senator Sanders has hired his Iowa campaign staff. At the top of his list are three former Iowa CCI organizers. To me that goes to show that CCI trains and develops some of the best organizers in the state of Iowa and across the country.

We congratulate Misty, Evan & Jess on their new positions and look forward to seeing how they continue to lift up our narrative, theory of change, and work for a better, more just world for all people through this campaign. BUT, we're even more excited about CCI Action's presidential endorsement process that kicked off this past weekend.

A team of 32 top leaders from across the state have agreed to stay out of picking a team in the race just yet, and instead act as a collective to assure that our issues are a central focus of every presidential campaign which comes through the state.

We are looking forward to engaging all candidates in how they can best co-govern with us to create lasting economic and social change. Our endorsement process will be fair and open to all candidates who are interested.Here's a look at the timeline:

In April, we will send a questionnaire written by our endorsment committee to all candidates.

From June to August, our Presidential Leadership Team will hold screening calls with selected candidates to dig deeper into their questionnaire responses.

Later on this year, we will send out a member survey to gauge the support of our larger member base.

We expect to have an endorsement in November.

We see elections as an opportunity to push for issues that will have the biggest impact on our lives. If you have any questions, feel free to reach out to Jack Reardon who is back on the CCI team as our new Movement Politics Organizer. jack@iowacci.org
Attend an Event
Join the Racial Justice team at the Des Moines City Council meeting on Monday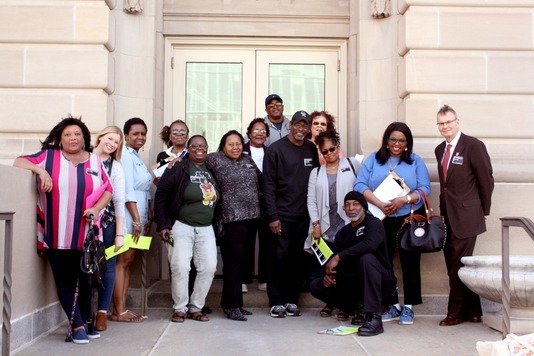 Back in November of last year, the CCI Racial Justice Team and members of the community presented a proposal to the Des Moines City Council which would combat racial profiling by the DMPD. The council promised the community they would report back on our proposal in February or March of this year.

We've been patient, we have waited, and now we want to hear what's been promised to us. So far, we have heard nothing from our local elected officials.It's time to show up in force and remind them we need to see real action on this issue. Join us on Monday!

Des Moines City Council meeting
Monday, March 25 @ 4:30pm
Des Moines City Hall, 400 Robert Ray Drive

If we show up big, it'll send a strong message to the city (and other cities in the metro) that we need more than lip service; we need real action now to stop racial profiling in our communities, and we won't give up!
Tags:
#climatestrike
,
2019 flooding
,
2019 Legislative Session
,
2020 caucus
,
2020 election
,
climate change
,
climate strike
,
erik giddens
,
Evan Burger
,
factory farms
,
flooding
,
Jack Reardon
,
Jess Mazour
,
Misty Rebik
,
Story County