Weekly Update: Feb. 22, 2019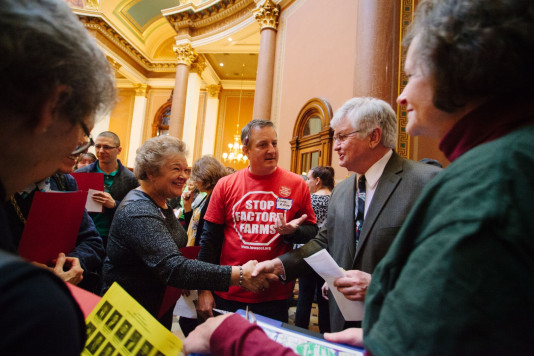 What a week! Yesterday, I got to spend the day with 75 clean water fighters at the Capitol. It was great to stand beside so many people, from across the state, to lobby for our shared future.
Our big push of the day was lobbying for House File 203, our factory farm moratorium bill. Together we lobbied over 15 key legislators and held a press rally with two of our bill sponsors and Des Moines Water Works' Bill Stowe. And, over 100 of you weighed in from home by calling Rep. Dean Fisher (R- Tama Co) asking him to assign HF 203 to a sub-committee. Thank you!
Tuesday was a big day for members in Story County. In the afternoon, we supported Story Co. Supervisor's appeal of a factory farm permit before the DNR's Environmental Protection Commission (EPC). In the evening, 150 of you turned out to a meeting where the Board of Supervisors voted to become the 25th county in the state to pass a resolution calling for changes to how Iowa issues permits to factory farms, and a moratorium! (I repeat: one in four Iowa counties are calling for action on this issue.)
I am constantly amazed and inspired by all that you do. In spite of the tough odds we are up against, your fighting spirit keeps me fired up for the next steps in our work to build a movement for people and planet. Thank you!
And, since I know you are hungry for what comes next, read on for updates and get ready to take even more action!
Legislative Updates
Racial Profiling bill on the Hill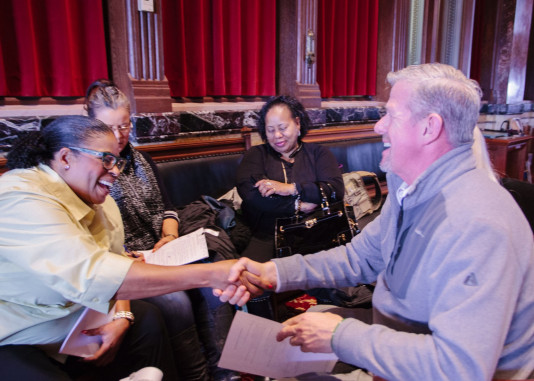 Members of our Racial Justice organizing team met with Sen. Brad Zaun (R-Urbandale) on Tuesday to keep the pressure on to ban racial profiling for the entire state of Iowa. Zaun is "cautiously hopeful" his bill will move in the Senate.

We'll keep tracking Senate Study Bill 1038 and let you know when your action is needed.Iowa is one of just 20 states where racial profiling by police is not illegal. While we're moving forward to pass a similar ordinance in Des Moines, our big goal is a state law to ban the practice.
Eyes on the bad E-verify bill
We're monitoring Senate File 243, a bill that aims to create unnecessary barriers to work, and requires employers to implement the costly and flawed federal E-Verify program.

While we expect the big business lobby to squash this bill as a "burdensome regulation," we oppose the legislation because E-Verify in couched in heavy anti-immigrant sentiments. We should make Iowa more welcoming and work to pass immigration reform, not scapegoat others or make working a crime.
Lawmakers work to make it more difficult to qualify for public assistance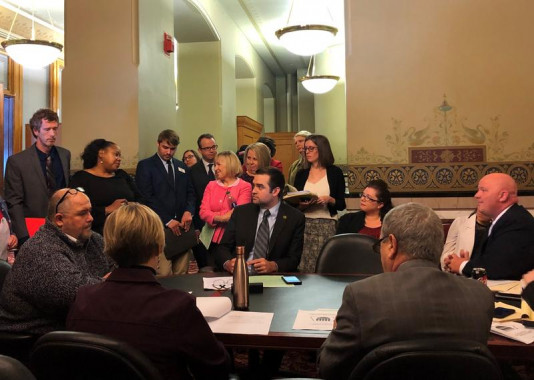 Last week, members testified against the work requirements bill during a subcommittee meeting (pictured above). It was clear that neither legislators nor lobbyists pushing this bill understood the impacts or reach it would have.
Des Moines CCI member Laurel Clinton helped flip the frame in this Iowa Public Radio story, saying this change would hurt people who are already working and struggling to get by with low wages, "Those aren't solutions. Those are ways to punish people for being poor."
On Monday, IPR's noon program River-to-River will take up the topic of this crooked attempt to eliminate pathways to care for others in our community, so listen and call in if you can!
Take Action
Bad net metering Study Bill introduced in the House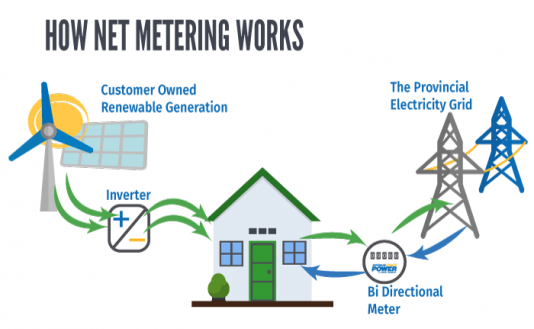 The bad bill to gut Iowa's long-standing net metering policy has been formally introduced as House Study Bill 185. Net metering is a good policy that credits independent solar and wind energy producers for surplus energy they put back on to the grid. It's an essential policy to make locally-owned, renewable energy more economically viable.
If gutted, locally-owned renewable energy will be even more difficult to achieve. And, we know this is key to building a safer climate future for us and future generations.
Why don't energy monopolies like MidAmerican and Alliant like it when customers generate their own renewable energy? Because it means fewer people buying their energy, thus reducing the sales and the profits of these utility giants.
Read this Bleeding Heartland piece: New bill is "clear attempt by MidAmerican to monopolize the sun in Iowa". (Our climate organizer Matt would say solar and wind – several of our rural members utilize net metering for their wind generators).

Take Action: Write a letter about this bill. Tell Representatives that net metering is important for our shared clean energy future. Stand up for People & Planet – not shareholder profits.
Rep. Dean Fisher is holding up the factory farm moratorium bill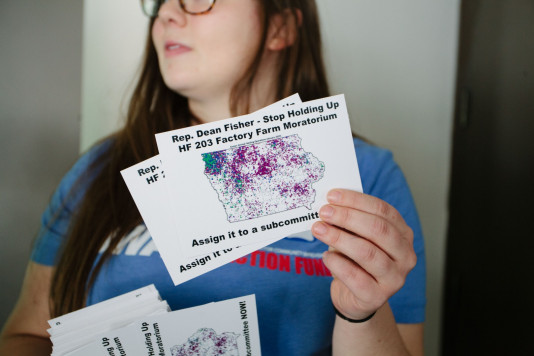 Photo credit: Karla Conrad
Rep. Fisher (R-Tama Co.) is the Chair of the House Environmental Protections committee. He is single-handedly stopping the Moratorium Bill House File 203 from moving forward. If he does not assign the bill to a sub-committee before March 8th, the bill will die.
Rep. Fisher doesn't think Iowa has a water crisis and says that the Moratorium Bill is "anti-agriculture".
We know that's not right! We now have 25 Iowa counties calling on the Iowa Legislature to to act on factory farm expansion.
That's why we are asking for your help. Can you call Dean Fisher and tell him to assign HF 203 to sub-committee? Give him a call at 1-888-724-8946: this will get you his cell phone, listed as his contact the Iowa House Republicans website.
Tell Rep. Fisher that you would like to see him taking action and assigining HF 203 to sub-committee. It has 13 co-sponsors and broad support in Iowa.
When you're done, please give us a call or email and let us know what he said!
Do you have caucus fever? Iowans have the power!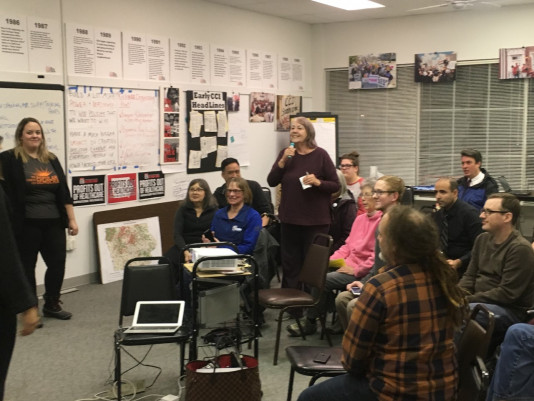 We as Iowans have more power than anyone in the country to make the bold policy solutions we need politically viable.
Iowa has a history of proving that long shots are possible (remember that Obama was a major underdog!) That's why we see it as our duty to seize the amazing opportunity of the 2020 caucuses to push for the Green New Deal, Medicare for All, Clean Water/Moratorium on Factory Farms.
Presidential hopefuls have already been knocking on the CCI Action door. So far we've taken the opportunity to meet with Jeff Merkley and Sherrod Brown to educate them on our issues. This Saturday, we're meeting with Tulsi Gabbard (D-Hawaii) and her staff to talk about rural and environmental issues. RSVP here if you'd like to join us.
Your chance to ask tough questions:
This week we trained up more than 100 members in four towns (like the group in our office, pictured above) on how to "bird dog" candidates.
There are certain tactics that work better than others. Matthew laid out tips for bird dogging on our blog, so we can give all these candidates tough, strategic questions as they continue their application process for the toughest job in the world. Read more about what bird dogging is here, and read a few questions you can ask here.
Attend an Event
Cedar Rapids and Des Moines:
Tell Joni Ernst we need a Green New Deal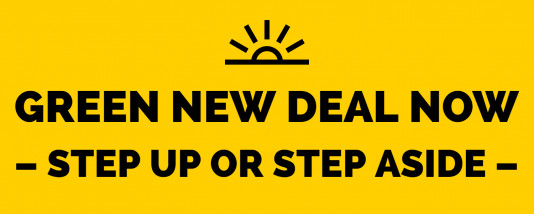 We likely have fewer than 10 days before the Senate votes on the Green New Deal.

Until then, it will be up to us to keep the pressure on each of our Senators, and demand that they come out in support of a Green New Deal. The next 10 days could be our best opportunity to build support in the Senate before the 2020 elections.

That's why Tuesday is a national day of action. Thousands of us will go to Senate offices across the country to rally outside or stage office takeovers inside to demand they co-sponsor the Green New Deal.

We're calling on you to make a strong call for action on climate in Iowa! Join us in Des Moines and Cedar Rapids for the National Day of Action for a Green New Deal.
Showing up in huge numbers at local offices is what will show Senators that there is serious support of the Green New Deal in their states, and make them think twice about voting with Mitch McConnell.
Attend a work party to make Green New Deal signs and banners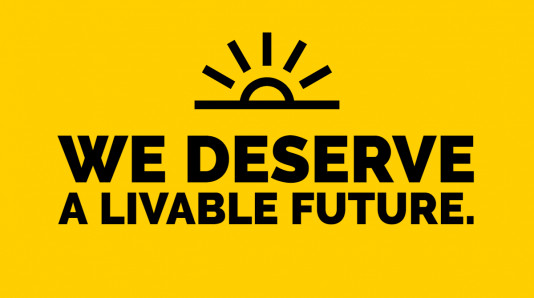 This spring we're embarking on a series of actions to turn up the pressure and give every politician a clear choice: Will you support our generation's best and last hope at avoiding climate catastrophe in our lifetimes, or will you cave to certain greedy politicians and fossil fuel lobbyists?
And to help do that, we'll need banners and handheld signs. Join us at the CCI office this Sunday for a work party. We'll create two large banners and 20-50 handheld signs that will be used over the coming months.
Can you make it? We need stencil cutters, painters, and more. RSVP on Facebook.
Other Events
A (*) denotes CCI-sponsored events
Upcoming Legislative Forums – multiple cities – Find a meeting

*Racial Justice meeting – March 7 – details TBA

SAVE THE DATE:
CCI Statewide Convention – Saturday, July 27
CCI Presidential Forum – Saturday, September 21
What We're Reading
Whew – that was a lot! Thanks for following along, reading closely, and taking action for people and planet. We have a busy week next week – and I hope to see you at one of these great events!
Speaking of that – we're hiring new organizers! Please share our job description with anyone you think would be a good fit.
Thanks for all you do!

Adam Mason
State Policy Organizing Director
P.S. They have corporate lobbyists. We have you! Use this link to join, renew your membership, or pitch in to keep the Statehouse work and issue organizing going strong.
Tags:
2019 Legislative Session
,
act on climate
,
Alliant Energy
,
Bill Stowe
,
bird dogging
,
Bleeding Heartland
,
Brad Zaun
,
Cedar Rapids
,
clean energy
,
clean water
,
climate change
,
Dean Fisher
,
e-verify
,
factory farm moratorium
,
food stamps
,
Green New Deal
,
HF 203
,
HSB 185
,
Iowa legislature
,
Iowa Public Radio
,
job openings
,
Laurel Clinton
,
MidAmerican Energy
,
Naomi Klein
,
net metering
,
racial profiling
,
SSB 1038
,
Story County
,
Story County Supervisors
,
work requirements